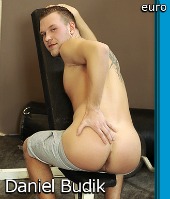 With a crooked smile & bright eyes,
Daniel tells a little bit about himself
, and then the fun begins. With an intense stare at the camera, Daniel begins rubbing his body, the shirt comes off, & a nice furry chest appears. Soon, his shorts are on the floor, and the rest, as they say, is history.