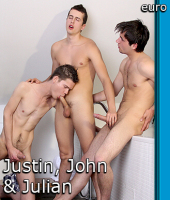 18 year old Justin Walker, 21 year old John Horny
and Julian Mattei, all come to us from the Czech Republic. This uncut trio is on holiday at a Gay resort on the outskirts of Prague. John is in the tub, when in through the door, Justin and Julian enter to join him. Justin and Julian lose their shirts and begin rubbing and stroking John and they begin kissing each other as well. Justin whips out his cock and John begins giving his some oral magic. Julian quickly jumps up and drops his pants, ready to get in on the action. As he patiently waits, he strokes his own cock and kisses Justin. Julian now gets sucked as well. As they kiss, stroke and suck, they each become incredibly horny. The 3 are lined up, with Justin penetrating John first, followed by Julian laying on the floor with John sitting on his cock, while sucking Justin. Julian first cums on John, who turns to Justin and receives a creamy facial. John finishes last but not least, by stroking off a creamy load.
Preview
Loading the player ...